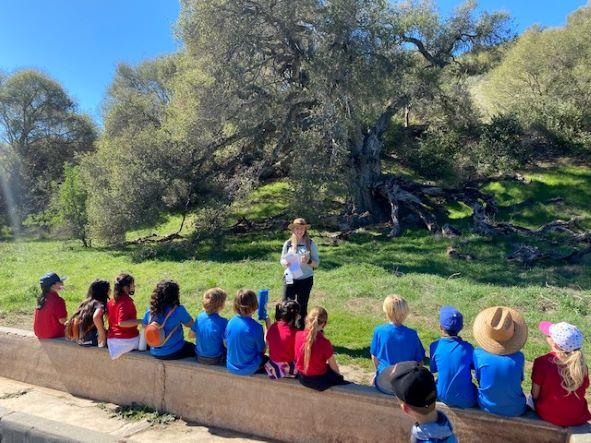 Nature is the Best Teacher
"This was the best day of my life!" exclaims a 2nd grade student as he boards the bus after his field trip to the Nature Reserve. Student learning comes to life through outdoor school programs on the Nature Reserve at Rancho Mission Viejo. This 2021-22 school year approximately 2,000 K-5th grade students will experience a field trip on the habitat reserve. The Nature Reserve offers both in-person and virtual field trips to meet the needs of all schools currently.

On an in-person field trip, students enjoy a day on the trail, hiking to multiple hands-on stations where science and social-science concepts are brought to life. Students catch insects, use binoculars to bird watch, investigate soil types of various plants, and survey ecosystems as scientists for the day. Walking next to the tracks of wildlife, smelling sages in the coastal sage scrub, or viewing a hawk soar above a majestic oak tree gives students a connection to the natural world that they just don't get from a textbook. They begin to understand science concepts on a deeper level and develop a care for their environment. Students have unique opportunities to observe and ask questions about the world around them as they immerse themselves in nature. All school field trips at the Nature Reserve are aligned with grade level standards to enhance and enrich the curriculum taught in the classroom.

Schools that are not yet participating in off campus field trips can connect virtually to learn. Virtual field trips are live and interactive, with students engaging from their classroom virtually, with a field naturalist on the trail. Students observe hands-on lessons, ask questions, and participate in meaningful discussions related to the science and social-science topics they are studying. Both the in-person and virtual field trips cover topics in life science, earth science and social-science, including the life of the California Native Americans.

This school year, Cox Communications provided grant funding to sponsor CUSD Title One schools attending in-person or virtual field trips. This generous funding offered equal opportunities for over 600 students that may not have been able to attend otherwise due to financial barriers. Cox Communications will again provide $5,000 in grant funding next 2022-23 school year for students to attend the Nature Reserve's school programs.

There is no substitute teacher for nature. Educators are thrilled to have these meaningful academic experiences for their students. "Thank you for a wonderful trip! Everything was better than I could have imagined.", writes a 3rd grade teacher after her field trip. The Nature Reserve at Rancho Mission Viejo is proud and excited to continue providing fun, memorable, and educational field trips for students for many years to come.