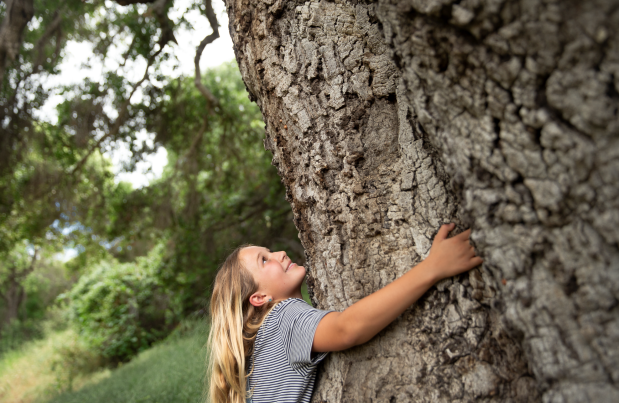 The Healing Power of Nature
When I was a kid, there were many hiding places I would retreat to when I was sad, angry, upset, or dealing with my own teenage angst. None of the places were inside my house. There was an old oak tree turned tree fort perfect for sitting and sulking. There was a large rock we called "Vader Rock" that was just the spot for being mad at my parents, and there was a small ditch near the railroad tracks where any kid with big feelings could sit and throw dirt clods until those feelings subsided. Each of these spots were important to both my physical and mental well-being.
Over the past decade or more there have been many studies on the physical and mental wellness benefits of time spent outdoors and in nature. For children and adults, spending time in nature provides many health benefits including physical activity, improved relationship skills, and a reduction in stress and anger.
In particular, children benefit from what is called "Nature Play", where kids experience unstructured time in nature. When a child can play freely in and with nature without grown-up intervention, they develop their own structure and learn to self-regulate. During our nature day camps, we allow time for Nature Play. For the last hour of camp each day, we plan nothing. We supervise but we allow the campers to interact with the natural surroundings on their own. Some kids build forts, some play in the mud, some look for lizards and bugs, and some sit and watch the clouds.
Of course, the value of time in nature also benefits adults. There are the physical benefits of movement and increased physical activity, Vitamin D from the sunlight, and breathing fresh air. There are also mental benefits of regular time spent in nature as relief for our increasingly busy brains. Research suggests that spending time in nature is linked to both cognitive benefits and improvements in mood, mental health, and emotional well-being.
If you are looking for ways to connect some of the "healing powers" of nature, we have plenty of opportunities this summer for kids and adults to explore and experience the outdoors. In July, we'll be leading a Magnificent Morning hike on our newest trail – the Ranch Camp Loop. We'll also be bringing the outdoors indoors for Nature Kids Club at Ladera Ranch Library. And for those looking to connect with Nature after dark, join us for our monthly astronomy nights and full moon walks.
Recently, the Nature Reserve team lost a staff member and friend in a hiking accident. You can read more about her in this newsletter, and I hope you will. When I heard the news of Sarah's death, I wanted and needed to be outdoors not just because Sarah loved the outdoors and nature, but because I needed it for my own mental health and well-being just as I did when I was a kid. So, I went where I could listen to the gentle flow of water and once again stand among giant trees who have existed long before me and begin healing.